Formulating and Donating Over 70 Gallons of Hand Sanitizer
At Johns 360 Coatings we believe we all have a part in the battle against this COVID-19 pandemic. Because the need is dire, our family-run company is shifting its focus to formulate and distribute hand sanitizer to local hospitals in Mississippi.
We started by making a test batch of just 6 gallons of hand sanitizer and gave it to our employees and donated it to doctors.  Since there's a critical shortage of hand sanitizer from suppliers for our local hospitals, we decided to ramp things up. We're on track to produce an additional 70 gallons of sanitizer this month which we will donate directly to local hospitals that are running low.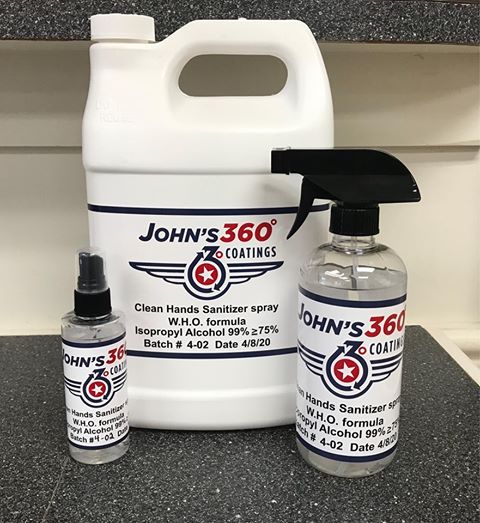 Everyone needs to pitch in right now to support healthcare workers and our communities in any way you can. For some its sewing masks or donating meals for children who can't get school lunch. For others, it's buying e-gift cards to local shops you want to see open at the end of this or sharing positive thoughts and prayers. Most importantly though, everyone needs to stay home unless they are doing essential work to provide our country with necessary supplies and services. Our health and our economy are at stake. Until a cure is available, we will soldier on.